In recent years, the vehicle wraps industry has advanced in technological innovation and creativity, sparking new changes in advertising mediums. Businesses large and small are using vehicle wraps as mobile billboards, showcasing their brand everywhere that their company vehicles go. Digital printing technologies allow companies to brand their fleet of vehicles without the expense and commitment of custom paint jobs. Vehicle wraps are especially valuable to commercial vehicles, as it gives the company reach into a wider audience and fosters local brand recognition.
Both Ford Transit vans and Mercedes-Benz Sprinter vans have become one of the most popular vehicle options to deliver this new marketing breakthrough. These two companies vans have established themselves as one of most reliable and efficient vehicles used in delivery and service fleets. Gaining popularity for their ideal size and composition, Ford Transit Vans and Mercedes Sprinter Vans are exemplary for attracting the attention of new potential customers. Both companies vans embody the perfect size for easy driving while using the van as a canvas to further represent their brands. Most often, these cargo vans do not have windows on the sides or back, allowing for extra advertising room. With new innovative breakthroughs in the car graphics industry, advertising with a vehicle wrap design has become one of the most cost-effective advertising options that serves a 24/7 workday. While TV advertisements can be turned on and off, and other digital marketing can be ignored, the vehicle wrap attracts attention on the road and intrigues customer interest.
These are a few of Prima Graphics' recent Ford Transit and Mercedes-Benz Sprinter designs with seamless finishes:
Lanstone Homes had us dress up their Ford Transit van with a full van wrap to showcase one of their custom houses.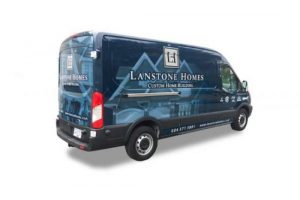 Four Winds Brewing Co. is a popular Delta, BC based craft brewer. We wrapped their Mercedes-Benz Sprinter van to showcase their timeless brand.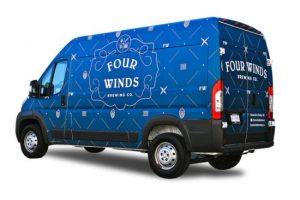 This fun Vancouver-based escape room company, Time Escape, drives their brand all through the Lower Mainland with this Ford Transit van.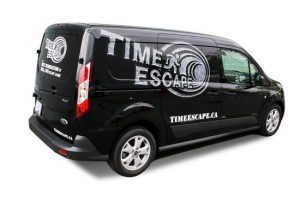 Cove Power wrapped their fleet to make sure they are recognized wherever they go across West Vancouver, North Vancouver, and the North Shore.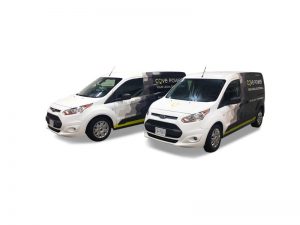 Water filtration systems company Santevia refreshed their Mercedes-Benz Sprinter van with a colourful wrap.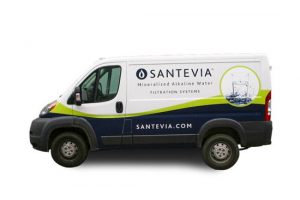 AJ's Electrical Service and Repair re-energized the surface of their Ford Transit van to catch the attention of potential clients wherever they go.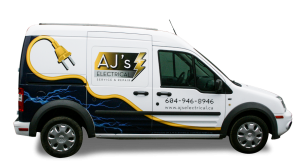 Pitt Meadows Plumbing & Mechanical Systems did a full Ford Transit wrap to tell the world that they mean business.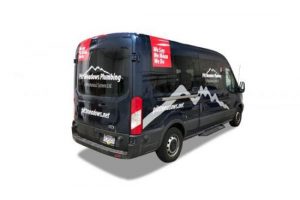 Prima Graphics is a Vancouver, BC based company with 16 years of experience in custom fleet wraps. We help brands to maximize the impact of vehicle advertising, leaving a lasting impression on potential customers. Along with our eye-catching custom vehicle wrap designs and attention to detail, we also pride ourselves in our knowledge of branding and marketing.
To uphold our promise of high quality, Prima Graphics uses industry-leading 3M and Avery vinyl wraps, guaranteed to last at least 9 years. Always putting our customers first, we offer budget flexibility through partial wraps, full coverage wraps and vehicle decals.
Want to learn more about a custom wrap for your business vehicle? Contact us today to get a free quote!